Long-lasting roads and energy savings are the main considerations of road construction today. The composite materials have to be suitable for all types of recycling and modern low-energy formulas, and at the same time they have to be adaptable to all recent technical developments for producing low cost asphalt.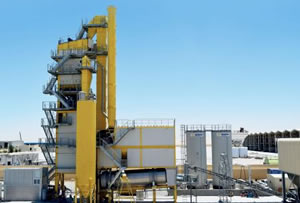 CYB-$AVE- Control system for containing energy consumption and limiting the environmental footprint

Four different solutions for use with RAP

Pre-wired and tested modules, electric cabling above ground plus the possibility of steel foundations mean cost savings during erection and reductions in the overall costs of installation. The surface space of the drum/filter bar is less than 30% when compared with the ground-based filter solution.

RAP technology

Warm mix asphalt technology, which can be fitted at any point of time

Emission of fines into the atmosphere

Mixing tower is insulated and cladded to eliminate heat loss, fine emissions, and noise pollution.

Recycling ring is positioned after the flame, which allows RAP to be fed at the ideal point of the dryer drum without any infiltration of parasitic cold air.

The feeding of RAP can be made directly into the mixer through a special feed line which consists of: (i)cold feeder and belt, (ii) cold RAP metering unit with bucket elevator, surge hopper, weigh belt with variable RAP feed management depending on moisture content (iii) modular exhaust system for RAP produced in the mixer with stoppage of fumes from drum to filter.

Modular concept, allows for quick and easy erection

Combined technology: ring + mixer
Storage and metering of virgin aggregates

Storage and metering of RAP

Dryer/Filter tower which consists of (i) dryer drum and recycling ring (ii) recovered fines storage under filter (iii) bag filter

Imported fines storage

Mixing tower (Hot elevator, fines elevator, screen, hopper under screen, metering of components, mixer)

Storage bin

Binder storage

Control cabin and automation

Cold Feeders
Top Tower Brochure Download
Download a copy of the Top Tower product catalogue.