Combi-CS
Combi-Counterbalance Stacker
With our patented multi-position tiller arm, our Combi CS, known as Combilift-Counterbalance Stacker in full provides maximum operator visibility, safer business operation, and elevated narrow aisle performance.
Our Combi CS possesses the ability to function in the smallest operating aisles for a piece of equipment of its kind and lift capacity. It is able to work efficiently with 1,200mm deep pallets within aisles as narrow as 2,400mm.
With PAVES, one of the most notable suppliers for industrial equipment in Singapore, such as our Combi CS series of products – discover how our Combi CS can take your business to the next level.
Packed with numerous benefits when it comes to smooth fingertip control and safety, it is none other than the multi-position tiller arm. It even allows the operator to drive and steer the equipment from any side and ensures the operator is never placed in a position between the unit and racking.
Versatile and compact, the stacker was created to elevate health and safety procedures in areas where personnel may be present, for example in production sectors of manufacturing plants: as compared to ride-on trucks, it is able to feed the lines with products with much less risk to other operatives.
Moreover, it provides outstanding manoeuvrability to operate in areas where there is limited space, and even stack typical pallets for space-saving storage. Other advantages also include an equipped display unit on the tiller arm for monitoring purposes and low effort AC power steering.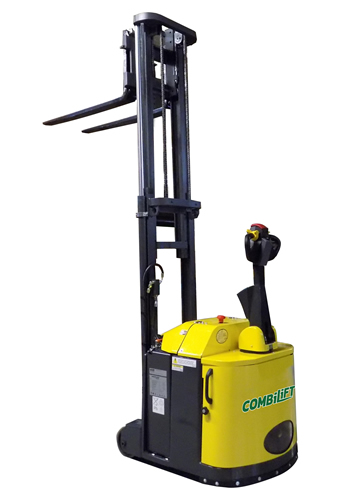 KEY FEATURES OF
COMBI-PPT
EXCEPTIONAL SAFETY WITH COMBILIFT'S PATENTED MULTI POSITION TILLER ARM
With the ability to be turned to the right or left, it lets the operator stay at the side, offering complete visibility of the forks and load, while still having complete steering control, giving the operator stronger awareness of their environment which boosts overall safety. By standing at the side of the stacker, it removes the danger of being crushed or trapped between the back of the machine and racking when managing products, while enabling the equipment to function in extremely narrow aisles.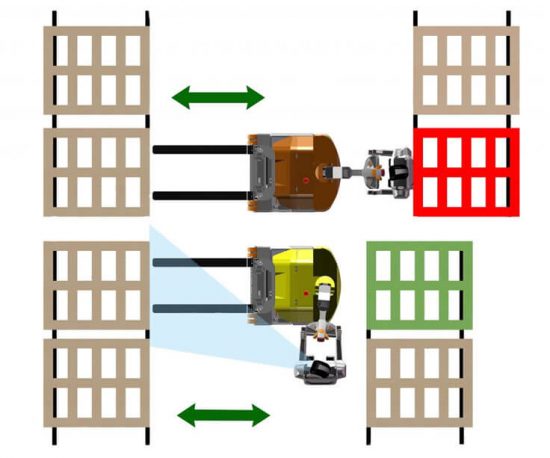 Capacity: 1,000kg-2,000kg
Lift height 2500mm
Overall width 890mm
Electric
Power Steering
AC Motor Technology
Rear Wheel Drive
Patented Multi-Position Tiller Arm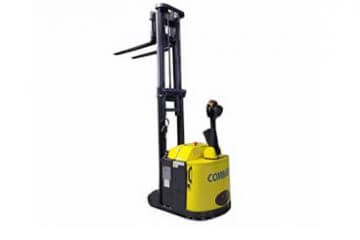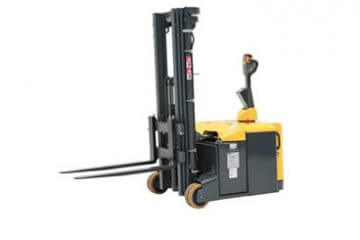 COMBI-CS Brochure Download
Download a copy of the COMBI-CS product catalogue.