Combi-PPT
The Phenomenal Electric Pallet Jack/Truck
Economical, powerful, and thoughtfully-designed, PAVES' Electric Powered Pallet Jack or Truck is an extremely versatile choice, perfect for small to medium-sized production facilities and warehouses, having a lifting capacity of up til 8,000 kg.
Alongside the automatic folding platform feature, it assists operators when it comes to large distances that need to be covered in a production plant or warehouse. The combination of AC motor technology, dual rear wheel drive, and power steering makes the equipment stress-free and effortless for operators by gliding across the floor even whilst transporting extremely heavy loads, and the manoeuvrability offered allows tight corners to be negotiated with ease and safely.
Through our pallet jack or pallet truck, maximum operator visibility and safer operation are both aspects that equally ensured. With PAVES, we make sure to provide warehouse staples such as our electric powered Combilift PPT to businesses in Singapore and across Asia. Efficient, reliable, and economical – the hand pallet jack is the easiest way to transport pallets from one place to another.
Suited for usage in small, tight spaces used to move palletised goods like stock floor replenishment.
Environmentally friendly, making it ideal for businesses who are interested in reducing their carbon footprint.
Quiet

operation compared to electric powered forklift equipment, hence creating more productive and safer working conditions.
Multi-position tiller arm enables the

operator to stand on either side of the pallet jack, removing any chances of get rushed within narrow aisles.
Easier to operate compared to engine trucks, and with fewer moving components, breakdowns are less likely to occur.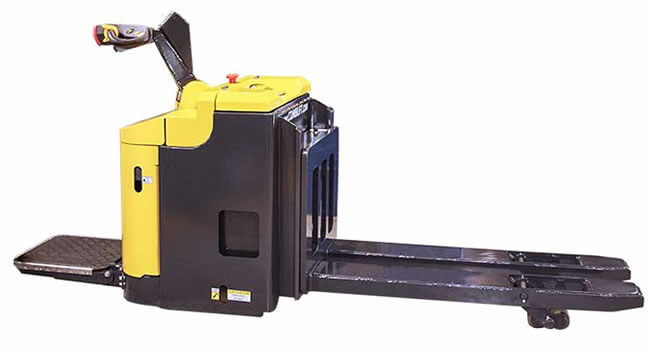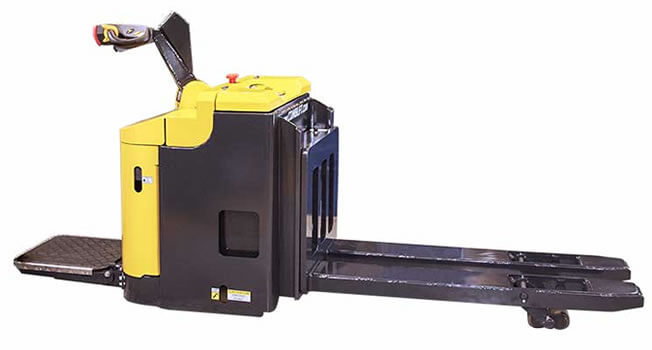 KEY FEATURES OF
COMBI-PPT
OPERATE SAFELY IN THE NARROWEST OF AISLES
Just like the rest of our Combilift Solutions, safety is of paramount importance in regards to our hand pallet truck or jack. To ensure the operator stays in the safest position possible while selecting and placing items within narrow aisles, where is right beside the unit, we've incorporated the multi-position tiller in our Combi PPT to allow for push-button rotation of the rear wheel. In addition, the operator's position also removes any chances of crush risk when operating equipment within tight spaces and prevents product damage. Even heavy loads are able to be handled by using walk-behind equipment, enabling high levels of safety while ensuring efficient processes.
As such, this helps to ensure a lower possibility of incidents occurring in small spaces and heightens forward visibility for operators. Counting this and the phenomenal ergonomics offered, our Combi PPT helps to make operations stress-free and effortless for even the bulkiest loads and their environment.
Overall width 920mm
Lifting capacity up to 8,000kg
Lifting height 95mm
Automatic folding platform
Patented multi-position rotating tiller arm
Rear Wheel Drive
AC Motor Technology
Power Steering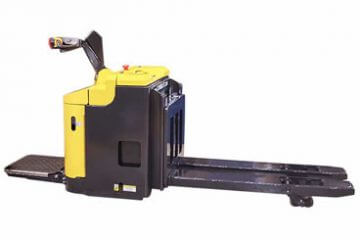 Combi-PPT 3000kg to 6000kg
Combi-PPT 6000kg to 8000kg
COMBI-PPT Brochure Download
Download a copy of the Aisle Master product catalogue.