Ideal for footpaths and repair work as well as finishing work in road construction. Compact BOMAG tandem rollers have also acquired an excellent reputation in gardening and landscaping.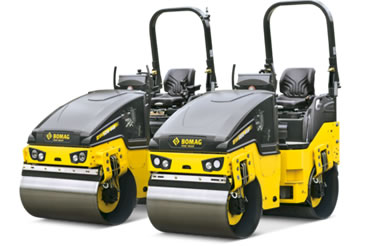 The articulation joint is not welded to the frame and is easily accessible in case of an emergency. All machines are equipped with crabwalk function.

The spacious operator's platform with a compact steering wheel has a robust dashboard with large switches. Intuitive operation via a soft responsive control lever and an excellent view of the drum edges ensure a relaxed working environment.

Economizer provides in time compaction results, avoiding unnecessary passes, saving time and money.

Wind protected sprinkler nozzles ensure even wetting of the bandages in all conditions.

BOMAG has dispensed with lubrication nipples. The articulated joint is also maintenance-free. The motor, central electrics and water pump are easily accessible. This saves time and simplifies daily maintenance.

BOMAG Telematic- With BOMAG Telematic, every machine is just a mouse click away. You can retrieve location and operating data at any time and manage your fleet more efficiently.
Additional Features
ROPS seat belt

Foldable ROPS including seat belt

Double travel lever

Seat heating

ECONOMIZER with asphalt temperature display

Temperature display

BOMAG Telematic

Theft protection

Indicator and hazard lights
Rotary beacon

Optional lighting on ROPS

Battery disconnect switch

Environmentally complaint hydraulic oil

Special painting

Edge cutter

Port for hydraulic breaker

Backup warning buzzer with broadband technology
Standard delivery with CE conformity (Valid with European Union)
Hydrostatic travel and vibration drive

Travel drive-in series

2 scrapes per drum, spring-loaded and tiltable

Pressure sprinkler system with interval switch

Multi function travel lever

Multi function display including operating hour meter

Water lever

Emergency stop

Individual control, vibration

Intelligent vibration control (IVC)

Integrated stowage compartment

Adjustable operators seat

Seat contact switch

Vandalism protection

12V socket

Working lights front and rear

Back up alarm

Lashing eyes, galvanized

Single point lifting device

Lockable engine hood made of composite material
Light Tandem Rollers <5t Brochure Download
Download a copy of the Light Tandem Rollers <5t product catalogue.