The KM 2-18X is a lightweight infrared asphalt recycler and features 23 square feet of heating area. The KM 2-18X is the perfect infrared recycler for repairing cold seams or roller marks on new paving jobs and other small- to mid-size asphalt defects.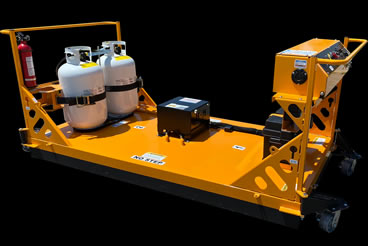 Versatile: 2 independently controlled heating zones
Maneuverable: Mounted on 4 independent swivel casters
Safety: Automatic pilot ignition
Efficient: Heat cycling technology
Value Added: (2) 30 Lb. Propane Cylinders
Overall Dimensions (L x W x H) – 6'6" x 3'6" x 3.5′
Overall Weight – 410 Lbs.
Heating Element – 1" Ceramic Refractory Blanket
Heating Zones – (2) 3'3" x 3'6"
Battery – 12V Deep Cycle Marine Gel
BTU Output – 300,000 BTU
*Specification subject to change without notice
Product Catalogue
Download a copy of the detailed specifications of the KM2-18X.