PAVES- KM International's of infrared asphalt recyclers is the most reputable, innovative, and profitable in the world of asphalt paving and road maintenance. It creates a heated thermal bond between the repair area and the surrounding pavement, to help aid the removal of damaged asphalt. The process then combines hot-mix asphalt with the recycled asphalt with undamaged areas and the area is reworked with a vibratory compactor for a smooth, and seamless finish.
It is the most cost effective and ideal method for patching up critical problems including potholes, cracks, asphalt pavement and rough surfaces. Made in the USA, with numerous sizes to choose from, PAVES is the company you can depend on for an infrared asphalt recycler to fit the needs and budget of contractors across a variety of industries.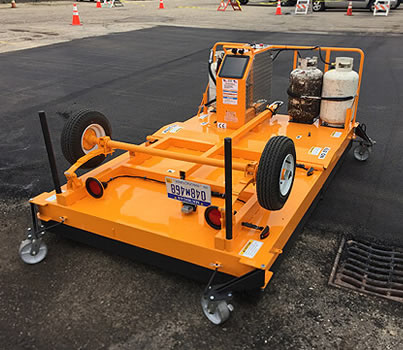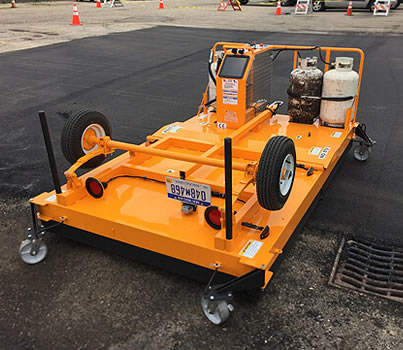 Automated pilot ignition: Push-button start
Automated Cycled Heating: Automated Heat Cycling mechanics
Heating Element: Achieve more smooth heat with 1" Ceramic Refractory blanket
Manoeuvrability: Fixed onto 4 separate casters
Advantages of using
Infrared Repair
Time and Cost-efficient: 1/3 the costs and time of conventional saw-cut R&R techniques
Reliability: Builds a hot thermal connection between the surrounding pavement and repair area
Profitability: Less labour and time needed, leading to increased job profits
Green procedure: In-place-recycling of current asphalt
Versatility: Ideal for pothole repair, high and low spots, thermoplastic application, birdbaths, cold seams while paving, repairs close to storms drains, and a lot more
Free Product
Demonstration
We want to show you how our infrared asphalt heater works at the actual work site in comparison to traditional saw-cut R&R methods. Schedule with us a FREE PRODUCT DEMONSTRATION, today
Download a copy of KM International's Catalogue
Product overview detailing all products manufactured under the KM International brand.