With ECONOMIZER, TanGO 4 and ASPHALT MANAGER 2 we set new standards and prove once again that real innovation must always lead to real benefits: Progress is not a question of what is technically feasible, but what makes practical sense. You can depend on the expertise of BOMAG design engineers and on the high service levels provided by our sales network. And you can always rely on legendary BOMAG quality. Because at BOMAG we have one key goal: to increase your productivity.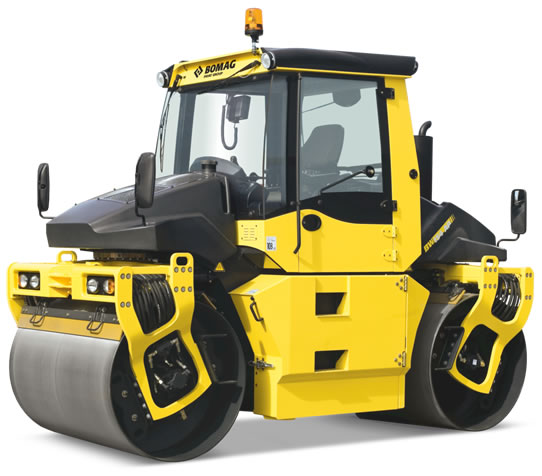 BOMAG Telematic allows the operator to retrieve location and operating data at any time and manage your fleet more efficiently. Automatic reports provide full transparency on fuel consumption, idle times, and the potential for fleet optimisation. It also includes real-time monitoring of pending maintenance and service history.

Patented Steering – Five steering modes, unique automatic steering facility and ergonomic mini steering wheel

Optimal compaction results as well as accurate data monitoring are recorded through ASPHALT MANAGER 2 with EVIB, BOMAG ECONOMIZER & BCM.

Easy handling, clearly detailed dashboard layout and top quality workmanship

Minimize fuel consumption
Additional Features
ECONOMIZER

Edge cutter

Rotary buzzer

Special Paint

Environmentally complaint hydraulic oil

Tool kit

Precision spreader

Precision spreader laterally slidable

Air condition

Radio / Radio preparation
Lighting for drum edge

Backup warning buzzer with broadband technology

Additional outside mirrors

Asphalt temperature display

By-pass filter

BCM-Documentation system

BOMAG Telematic Power

Rearview camera

BOMAG ECOSTOP
Engine Type: Stage V/ Tier 4f

Weight 7.0kg

Working Width 1500mm

ECOMODE

Plastic water tank under the operators platform

Water saving pressure sprinklers

Individual vibration control

2 amplitudes / 2 frequencies

Automatic vibration operation

4 spring loaded hinged scrapers

Indicator and hazard lights

ROPS cabin with seat belts – heating

2 outside mirror

Steering method / operator's seat sliding / rotatable

Steering with comfort control – 5 steering modes

Back up alarm

Emergency stop

Split drums
Heavy Tandem Rollers Pivot Steered 5-12t Brochure Download
Download a copy of the Heavy Tandem Rollers Pivot Steered 5-12t product catalogue.