Road construction is a complex task. That's why every BOMAG paver is systematically designed for efficiency – regardless of the class and whether it is a wheel or chain version. This applies as much to the lower fuel consumption as to fast operational readiness and excellent pre-compaction. Developed and optimised by engineers, who can draw upon half a century of experience, particularly in respect of efficient road construction. Every machine leaves the factory with the highest possible level of reliability. Another reason why selecting BOMAG ensures an investment that pays off for a long time.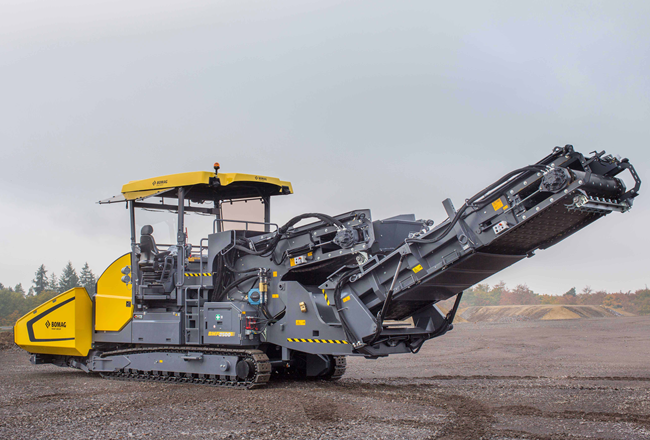 The conveyor belt has a width of 1.2 metres and can deliver 4,000 tonnes of material per hour.

Automatic distance control as standard ensure safe operation

The optional slewable conveyor belt can be assembled in less then two hours

By means of the conveyor belt sensor, which is fitted as standard, paving material reaches the hopper smoothly.

The chain-reinforced conveyor belt guarantee long service life and low operating costs

The large material hopper has a capacity of 15 tonnes and provides ample reserves when changing lorries

BOMAG TELEMATIC- Retreive location and operating data at any time and manage your fleet more efficiently. Automatic reports provide full transparency on fuel consumption, idle times and potential for fleet optimisation. Real time illustration of total service planning and history comes BOMAG TELEMATIC.
Optional Features
Operator's platform

Weather protection for platform

Comfort seat with seat heating

Height adjustable lift platform

Special paint finish

Bio-degradeable hydraulic oil

Camera system

Signal lamp system- Conveyor belt

Slewable belt (Only for model BMF-2500S)

Slewable belt covering

LED lighting for slewable conveyor
Camera system for slewable belt

Hydraulic height adjustment for conveyor belt- assistance systems

Automatic steering (max 14m)

Automatic steering (max 10m)

Fleet management

Illumination balloon(24v, 250W)

LED Roof Illumination

LED Illumination of short and medium conveyor belt

Fire extinguisher

Coming Home Light Function

Illumination of engine compartment
Operators platform

2 drivers seats slewable and rotatable

Protection, dashboard

Adjustable dashboard

Hydraulically foldable roof

Digital display for machine management

Weather protection roof- tractive unit

Fuel tank 300 litres

Individual control of bucket flaps

Track chain scraper

Rubber floor plates

Hydraulic hopper front flap

Cleaning kit

Pre-installation of swivelling conveyor

Central lubrication of conveyor belt chain

Scaper for conveyor belt

Automatic conveyor belt cleaning system – Assistance systems
On-board tool

Automatic distance control

Automatic loading assistant

Laptop station – Miscellaneous

7 Halogen working lights
Flashing beacon

Back up alarm

2 x 24v sockets

1 X 12v socket

Storage Compartment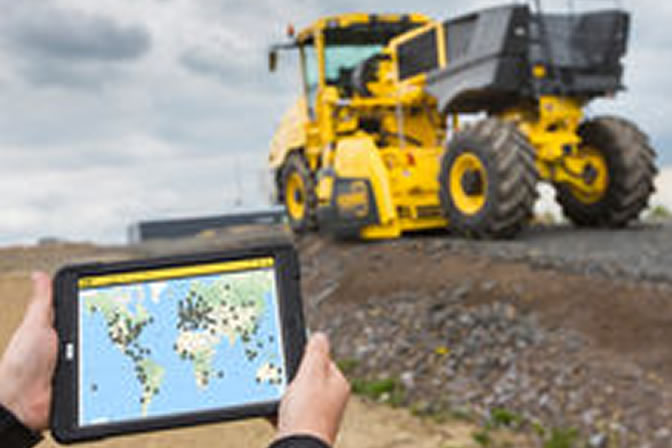 Telematic
Call up the status of your vehicles from your computer or tablet. Provides compaction details, maintenance reports in real time, which is available across all devices PC, ioS and Android devices.
Feeders Brochure Download
Download a copy of the Feeders product catalogue.