Continuous asphalt plants are named like this because there is no interruption in the process of asphalt production. Unlike batch-type plants, the mixing of aggregates, filler and bitumen takes place in the dryer drum. For this reason the drum, which is considerably longer than a batch-plant drum, takes the name of drum-mixer.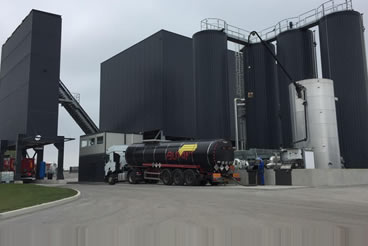 Safety – Inclusion of protections to all moving parts, in accordance with current safety standards in order to avoid personnel accidents during the asphalt production process.
Recycling Ring – Allows the introduction of RAP (Recycled Asphalt Pavement) in percentages of up to 30%, and also facilitates the production of special mixtures such as SMA (Stone Mastic Asphalt) with filler and fiber that may also be injected through this recycling ring.
NOMEX Bags – Bags made of NOMEX with TEFLON layer. They allow working with higher temperatures required for the production of modified asphalt and RAP.
Insulated Dryer Drum – The dryer drum is insulated with thermal material and with stainless steel cover helping to maintain the dryer drum temperature and producing significant fuel savings.
Software Remote Access – Allows direct communication with the factory for diagnosis, updating and implementation of solutions to any problems during the production process.
Manual and Automatic System Operation – The entire plant operation can be executed both automatically through the PLC and by the manual board.
Highly Efficient and Durable Mixer – Mixer allows longer mixing cycles resulting in better quality of the final mix. All blades are built in special steel, highly resistant to wear, that guarantees a lifespan up to 300,000 tons.
Modified Asphalt – The MAGNUM plants produce asphalt mixtures with any type of modified bitumen, thanks to its "plug and play" devices that can be attached to the asphalt plants.
Filler Bin – Designed to add the extra filler that may be required in some cases, as well as, for the production of special asphalt mixes.
Video Cameras – System composed of 4 cameras to monitor the main sectors of the production process, such as the aggregates dosage, burner flame and plant overview.
Continuous Asphalt Plants Brochure Download
Download a copy of the Continuous asphalt plants product catalogue.