Road construction is a complex task. That's why every BOMAG paver is systematically designed for efficiency – regardless of the class and whether it is a wheel or chain version. This applies as much to the lower fuel consumption as to fast operational readiness and excellent pre-compaction. Developed and optimised by engineers, who can draw upon half a century of experience, particularly in respect of efficient road construction. Every machine leaves the factory with the highest possible level of reliability. Another reason why selecting BOMAG ensures an investment that pays off for a long time.
BOMAG TELEMATIC – Retrieve location and operating data at any time and manage your fleet more efficiently. Automatic reports provide fuel transparency on fuel consumption, idle times and the potential for fleet optimisation. BOMAG TELEMATIC also includes real time monitoring of pending maintenance and service history.

Quick change milling drum standard

Maximum milling performance for an average milling depth at average speed

Vibration insulation including all operating controls for continuous, stressfree operation.

Less wear with BOMAG miling drums and variable cutting speed

Optimised gearhousing

Optimal ground clearance for milling close to the kerb
Optimum milling profile for a shallow milling depth at high speed

Grouped service points

Maximum productivity, height adjustable, broad swivel range, plus variable belt speed for greater flexibility.

Maximum milling performance for deep milling at low speed

A planer must mill accurately. BOMAG milling drums feature innovative geometry. The tools are optimally arranged to ensure uniform, low vibration cutting. Due to the shell thickness, the milling drum acts like a flywheel transferring far fewer vibrations to the machine than a conventional drum. This increases planer durability.

Air intake from above.
Optional Features
Basic machine
4-Wheel-version
Weather protection roof
Splitted Scraper
Port for hydraulik breaker
Road lights
Additional working-light, plug in
Additional working-light, magnet base
Special colour
Biodegradable hydraulic oil
Milling-Drum 600 LA15
POWER DRUM 500 LA20
Fine Milling-Drum 600 LA6
Milling drum 500 LA15
POWER DRUM 600 LA20
Fine Milling-Drum 500 LA6
Milling drum 400 LA14
Milling drum 300 LA14
Conveyor, long
Conveyor, long, hyd. foldable
Conveyor, short

Automatic Levelling systems

Levelling Basic, levelling-display, wire-rope sensor, controller (single grade)
Levelling Advanced 1, additional wire-rope sensor (dual grade)
Levelling Advanced 2, slope sensor
Hydraulic breaker
Transport trailer
Milling technology

Milling Drum LA15

3 Milling-Drum-speeds

Proportional adjustable water injection

Automatic water-saving device

Wear-free, digital Milling-depth-display

Proportional Milling-depth-adjustment

Two proportional speeds for Milling-depthadjustment

Hydraulically operated side-plates

Hydraulically operated front mouldboard

Rear mouldboard with adjustable pre-load-pressure

Right side-plate for fast Drum-exchange

Automatic load-control

Automatic distribution of traction

3-Wheel drive
Right rear wheel foldable from operator place
Variable transport speed

Variable operating speed

Mechanical Drum drive

Fully vibration-isolated operator-platform

Comfort-workstation for sitting operation

Seat heating

Ergonomic adjustable operator seat, 45° to slew

Ergonomic adjustable steering wheel / column

Height- adjustable arm-rest with integrated ergonomic operation panel

Self-explanatory, well-arranged dashboard

Large storage at ground level
Service- and maintenance-points ergonomic concentrated

Safety & environmental protection

Whisper-package for noise elimination

Liquid cooled engine following latest emission rules

Back-up-alarm

Two driving lights

variable working-lights

Rotary-beacon

CE-conform safety-package with emergency-stop-switches

Mirror
Vandalism protection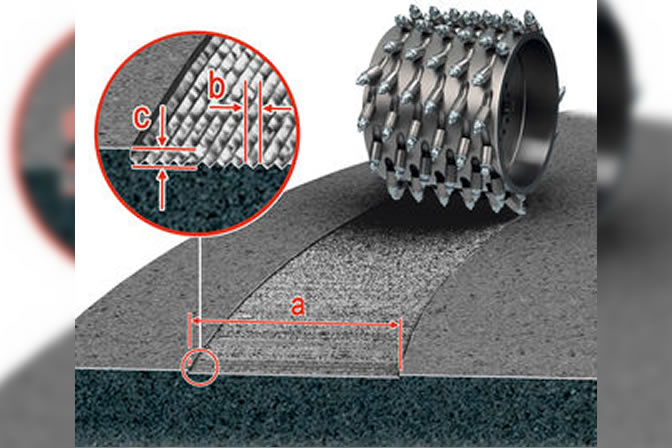 Fine Milling Drum
This adds more cutting tools. Due to the high density of the cutting tools, fine milling creates a very fine surface texture and a low thickness up to 40 mm / 1.57 inch. Fine milling drums are used to increase the skid resistance of smooth road surfaces which have been "polished" by traffic. They can at the same time remove light ruts and uneven areas. In addition, these drums can be used to prepare sites for laying thin layers, to remove road markings and for fine milling of floor surfaces inside buildings.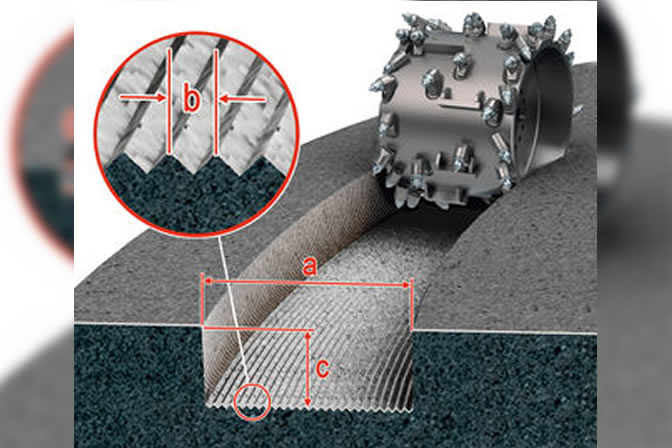 Power Milling Drum
Cutting power per tool increases and pulverised material fragments are larger. Because of the reduced crushing effect in the milled material, energy is saved which can lead to a faster travel speed or lower fuel consumption. At the same time, the cutter has lower wear because the faster advance rate means the impact time of the cutting tools is reduced and they generate less heat. POWER DRUMS not only offer milling performance which is up to 30% higher than standard milling drums, they also provide lower wear and reduced fuel consumption. The line spacing of the cutters on the POWER DRUM is relatively wide and the surface structure created by milling is rough and coarse. POWER DRUMS are used to plane hard materials and for complete removal of asphalt pavements.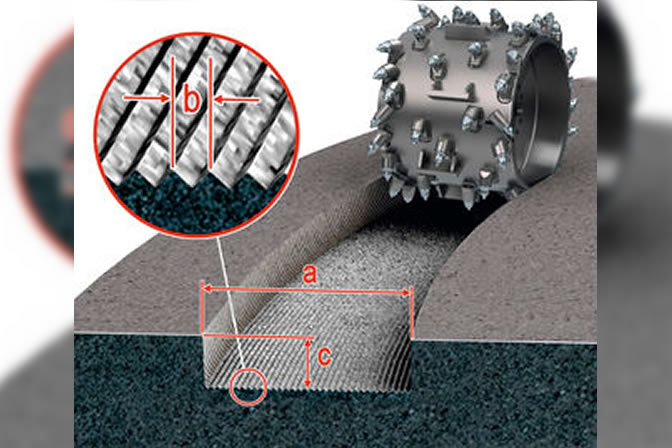 Standard Milling Drum
They can be used for multiple applications on a variety of milling jobs. The standard milling drum can be used for complete removal of whole road surfaces as well as for planing individual layers. The applications for standard planers extend from the removal of small sections of road (patches) to major surfacing work and road repairs, including milling duct trenches. The milled surface is an ideal base for laying new asphalt layers.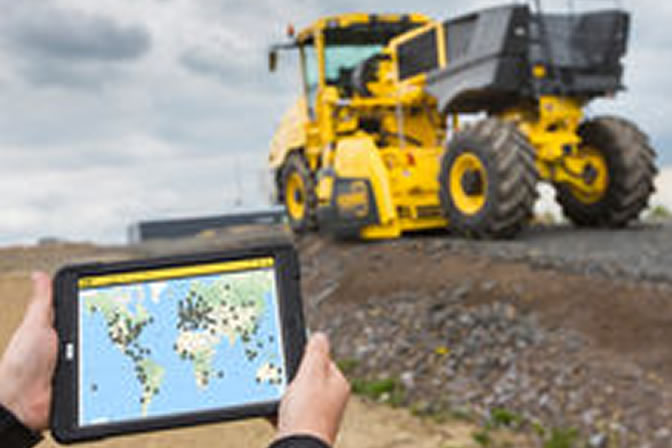 Telematic
Call up the status of your vehicles from your computer or tablet. Provides compaction details, maintenance reports in real time, which is available across all devices PC, ioS and Android devices.
Product Catalogue
Download a copy of the Cold Planners product catalogue.