AISLE MASTER ORDER PICKER (AME-OP)
The stand on electric powered Aisle Master order picker is designed for warehouses to travel within very narrow aisles for both order picking and replenishing.
With the ergonomic design of operator's cab, it secures the operator's safety and handling of goods safely unlike the usual order picker with no cab.
10 Key Reasons why an Aisle Master-OP?
Lift capacities from 1,500kg to 2,500kg
Lift height up to 12m
Can operate in aisles as narrow as 1650mmm
Can operate both indoor / outdoor
Do not require super flat flooring
No guided aisles required
Electric
100% locally sourced parts
1 year / 1,000 hours warranty, whichever comes first
Order picking at ground level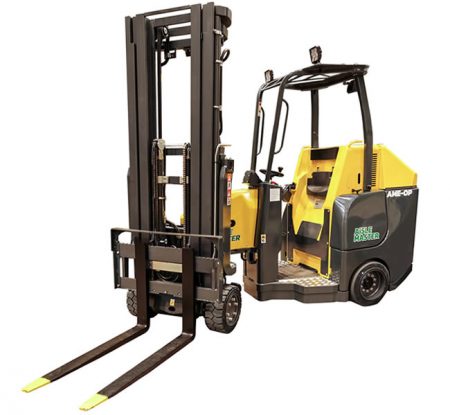 KEY FEATURES OF
AISLE MASTER
If you're interested in focusing your investments on upgrading the infrastructure of your facility, look towards our Aisle Master that will help to ensure better safety, have an increase in storage capacity, and boost productivity levels.
With PAVES, it's not just about informing you how our warehouse optimisation solutions work – but it's about a show and tell demonstration. Pop over any questions regarding our intelligent equipment and technology, and we'll help by providing a complimentary and exclusive warehouse floor plan put together by one of our experienced engineers. We'll take hold of your current footprint and illustrating exactly how PAVES manages to work within it so you can achieve maximum efficiency and storage space.
Approach PAVES if you're a business in Singapore or across Asia in need of an Aisle Master, we're here to supply you with the ideal equipment to support your business needs.
Aisle Master Order Picker Brochure
Brochure will have detailed information about Aisle Master Order Picker.